Real Skin Essentials SET
*3 Carrot Mini Products Will Be Sent At Random With Purchase

If you are looking for the best summer skincare routine that is right for you, this Real skin essentials SET will be the best. A triple threat set made with the fav items from each of our skin collections. Exfoliate, hydrate, and calm skin for a flawless texture and glow that won't ever fade! Plus, get all the skin tools you need for the best results - that's right- for free. 




Hero Ingredient
Calendula
Soothes and protects the skin, with the healing properties of full Calendula flowers, from petal to stem.
Artemisia Rice
Artemisia and rice are time-tested, traditional staples in Korean skincare; passed down through long generations. Artemisia calms irritation while rice bran water brightens and energizes complexion.
Beta-Carotene
10,000ppm of premium grade extra virgin carrot seed oil rich in Beta-Carotene and Vitamin A to banish irritations, and pump up moisture.
Skincare Step
1. Real Calendula Peel Off Pack
Lift flaky skin and excess oil, leaving skin ready to absorb remaining skincare
2. Real Artemisia Rice Toner
Hydrate, calm, and firm the skin
3. Real Carrotene Blemish Clear serum
Moisturize and refine texture
"Skeptic turned believer."
I have literally only used this for three days and I have already seen an unbelievable improvement in my skin.
Kendra
Real Calendula Peel Off Pack

The best ever peel feel.





How to use?

1. After cleansing, apply an even layer to dry skin, avoiding eyes, lips, and hairline
2. Leave on for 30 mins or until completely dry
3. Gently peel off mask from outer edges and wipe away any excess with a fresh clean towel. No need to wash your face after peeling.


Tips!

Apply using the Jelly Brush for even application.

Key Ingredients

Calendula Flower : Soothes and protects your skin, with time-tested healing properties.
Flower Complex : Anti-inflammatory Starflower (Borage), Cornflower, and Chamomile Flower extracts soothe dry, itchy, scaly skin
Tree & Fruit Oils : Helps clear acne, reduces puffiness, redness, and evens out skin tone.

Real Artemisia Rice Toner

Hydrating vegan toner for "Flawless Supple" skin





How to use?

1. Wet a cotton pad with the toner and gently wipe it across the face.
2. To apply an extra layer for long-lasting hydration, put a few drops of toner into the palms and press them gently into the face.





Tips!

1. Use with 3-layer Cotton Pads. Soak the cotton pads generously with toner.
2. Separate the cotton pads into 3 layers. Place two sheets on each side of the cheeks and one on the forehead. Relax for 3 minutes, then remove.
3. Use a spray bottle and mist your face whenever you need a hydration boost.


Key Ingredients

Artemisia : Time-tested skin soothing remedy that is passed down through long generations.
Rice : Made with 10,000ppm rice bran water to brighten and firm up skin.

Real Carrotene Blemish Clear Serum

Zap away blemishes and milia





How to use?

1. Use AM and PM, after toner and cleansing
2. Pump 1- 2 times and gently spread across the face from the center outwards
3. For overly tired and sensitive skin, apply 2-3 more layers


Tips!

Layer on the serum on target areas

Key Ingredients

Carrot Complex & Beta-Carotene : Contains 10,000ppm of premium grade extra virgin oil rich in Beta-Carotene and Vitamin A, that wrestles free radicals and pumps up the moisture
Niacinamide : Fights free radicals and strengthens the skin barrier to keep it firm and healthy
Hyaluronic Acid & Plant Oils : Known for their hydrating and soothing properties to calm inflammation and irritation

FAQ

How often should I use the Peel Off Mask? What about the rest?

Use Peel Off Pack twice a week after cleansing to get a glow that won't fade! For the other products, use them twice daily, AM and PM, for smooth and soft skin!

Does the peel off mask hurt?

Our Peel Off Pack is gentle, but it effectively peels away flaky skin, residue in the gentlest way possible while leaving skin smooth and soft.

I have a certain skin type. Can I still use the Peel Off Mask?

OOur Peel Off Pack is a gentle peel off mask that is suitable for ALL skin types, regardless of gender and age. So, peel worry-free!
Customer Reviews
Write a Review
Ask a Question
11/18/2020
Jamilia T.
Singapore
I recommend this product
Great package
Everything is great so far. No allergies or anything. New peel off pack didn't feel different from the previous one.
11/18/2020
Sally C.
Singapore
I recommend this product
Real Skin Essentials Set
My 2nd purchase of this set and my 4th purchase from Aprilskin. Really love it!
11/16/2020
Marni S.
Singapore
I recommend this product
I like this is product I will buy it again
My face be come so tight and brighten and less pimples
11/15/2020
Kacie T.
Singapore
I recommend this product
Real Skin Essentials Set Review
Real Calendula Peel off Pack: not suitable for people with sensitive (easily irritated) skin. To be honest the product goes nicely on the skin except there was a tingling sensation for me. The peel off pack is think and sticky and it dries down very quickly so you might want to work fast. Experience: My skin did felt tingly the first use but it was not unbearable so I used it for about 2 weeks, 2 times a week. Disclaimer: I got the foam cleanser as well to wash my face. Initially my skin became really smooth after the first week but moving to the second week, I started having the worst breakout on my cheek area. It was not pimples but just really red small lumps that hurt when I washed. So I completely stopped using Calendula entirely. Artemisa Rice Essence Toner: Really gentle and soft on the skin. Does not leave behind any glossy squeaky texture. Little to no fragrance. Experience: I am completely in love with this product and I am going to buy more. It feels really soft and gentle on the skin. It is almost like a water-milk texture that absorbs into my skin immediately. I usually soak it on the cotton pads (free gift) and leave it on my face for 5 minutes. My skin feels hydrated and it helped reduce the inflammation. Will buy again. Real Carrotene Blemish Clear Serum: Disclaimer: Do not be alarmed by the small bottle size as there is a lot of product. Mild fragrance but is not unpleasant. Goes nicely on the skin and does give skin a nice healthy texture. (not too glossy, not too matte). Can be applied on focus spot or on entire face. Best option for sensitive skin. Experience: Will use this line instead to tackle my skin breakout. It helped to reduce the swelling of my breakouts completely now. Note that I have been using for about two months. Used it every morning and night Free gifts: Real Carrotene Foam Cleanser- Will be buying the product once my sample finish. Really love this and will be converting to the Carrotene line. Was really gentle on my sensitive skin and it did not make my skin squeaky after wash which I really liked.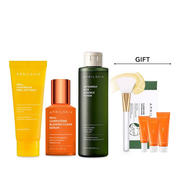 11/15/2020
Sitti H.
Singapore
Don't be skeptical!!!
For this set is A MUST have for me now... My face looks fairer. And pores shrink.. I've been using for a week as a set. Cause in the begining I'm only using the calendula peeling pad. I love it that it's suitable for my skin.. so why not I try this set and I LOVE IT!!!
11/14/2020
Ong F.
Singapore
Highly recommended
Having using it the first time already showed satisfying results. I used to have oily skin but after using those item my skin condition improved a lot. Will buy again after using finish.
11/12/2020
Vi .
Singapore
11/12/2020
Hannah T.
Singapore
Great product with slight issues for sensitive skin
I LOVE AprilSkin products and always recommend them to my friends. I had a little hiccup with the delivery as there was an item missing, but nothing to worry about as their customer service dealt with it real well! My first experience with the calendula peel off face mask, I absolutely loved it so I bought it again. However, I noticed this time round that there was a slightly burning sensation after a minute into application. I've continuously had it, but thankfully I don't break out or rash up. I'm still using the product including the rest in the pack which I highly recommend! It is light on the skin and perfect in humid and hot conditions. Definitely will continue with Aprilskin!
11/12/2020
Kimberly T.
Singapore
11/12/2020
Beverly C.
Singapore
First time using Aprilskin
I find it effective as I realised there are lesser milia seeds on my skin, face is smoother and experiencing lesser breakouts. I am ordering again.
10/12/2020
Ameera I.
Singapore
Facial
Reduced white pores and pimples.
10/10/2020
SHANE L.
Singapore
10/03/2020
beverly a.
Singapore
rating
so far, im happy with the results. some of my friends have noticed the good effects of it to my skin..and asked me about the products that I've been using..and i also recommended it to them to give it a try for them to experience the beauty that April skin is providing to me now..thank u
10/01/2020
Hanis I.
Singapore
Skin essential set
Very satisfied with the product. Gentle to the skin
10/01/2020
Vanessa H.
Singapore
Value for money!
Is great products, my skin improved and look younger.