Hero Ingredients
Calendula
Contains 2000ppm of Real Calendula, a herb calms irritated skin and creates a moisture cover for the skin.
All parts of the Calendula Flower were sourced in its pure, raw form, including the petals, pistil, stamen, and calyx.
Skincare Step
1. Real Calendula Low Ph Foam Cleanser - Gently cleanse your skin with low pH formula.
2. Real Calendula Peel Off Mask - Lift dead skin and excess oil so the rest of your skincare absorbs better.
3. Real Calendula Hyaluronic Toner Pad - Double cleanse without stripping your skin of moisture.
4. Real Calendula Deep Moisture Essence - Hydrate and tighten your pores and get that lit-from-within glow.

"I'm In love with this product."
I stopped wearing make up after using this just the kit is enough to make me feel beautiful, clean and keeps my face moisturized.
Karen H.
FAQ

How often should I use the Peel Off Mask?

Use it one or twice a week at least 4 weeks to see results. Depending on the sebum production and the state of your skin we recommend using 1-2 times per week.

I have a certain skin type. Can I still use this set?

All the products in our Calendula collection has been clinically tested and are safe to use on even the most sensitive skin, thanks to their naturally derived, plant-based ingredients!

Can I use Real Calendula Hyaluronic Toner Pad as a toner?

Definitely! Tone, hydrate and refine your skin with this wonder pad that has two distinct textures that exfoliates and soothe your skin at the same time. A few swipes and we are ready to take on the world!
Customer Reviews
10/16/2020
Julia
Singapore
I recommend this product
I'm in LOVE!!!
I'm not a person that uses all the products in a collection BUT I'm very glad that I did with the REAL Calendula set! I had tried everything except the cushion(will try it tml)and I have to say I ABSOLUTELY LOVE THEM! After using the Foam Cleanser, my skin feels soft and supple. The Peel Off mask is a darling! Leaving my skin clean, soft and bright. The Hyaluronic Toner Pad is Amazing! It refreshes and soften my skin while the Deep Moisture Essence is TDF! It hydrates(my skin literally drink it up! So thirsty LOL) and tightens and leaves my skin glowing, literally! ❤️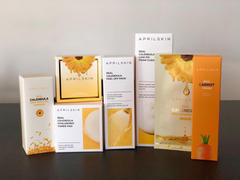 10/09/2020
Yi L.
Singapore
I recommend this product
Awesome Products!
I can see there's a improvement on my skin. Will purchase again
10/02/2020
Qian Y.
Singapore
I recommend this product
Pretty good
I found the facial cleanser good, not too drying and the face mask is fun to use, not too sure about the results because I didn't see anything super obvious but I wouldn't mind purchasing again on a sale.
10/01/2020
Toh A.
Singapore
I recommend this product
Recommend as a starter kit
The set has everything you need to start your beauty regime! In love with the peel mask!
09/19/2020
Lin Y.
Singapore
I recommend this product
Worth-it package
Great. I am a return buyer and it was great buying online as it offers additional freebies and delivers to your house as well .
09/18/2020
Mhike G.
Singapore
09/10/2020
Brenda C.
Singapore
I recommend this product
New Cushion Cover
I have not used the skin care product yet. I tried the new Cushion Cover. After cleanse my face, my face got patches of redness and rough. I tried again, it gave me the same problem. What do you think and your advise, please.
09/09/2020
Danao A.
Singapore
09/08/2020
Epal L.
Singapore
Real Calendula Full Line
Love it
09/08/2020
Shiyun t.
Singapore
Real Calendula Full Line (Free gifts+Free shipping)
First time using.
09/07/2020
Fuileng W.
Singapore
09/06/2020
Joanne L.
Singapore
09/01/2020
Anna L.
Singapore
Excellent product
Products r good n suit my skin. Nice smell . I just like Aprilskin.
09/01/2020
Gellie R.
Singapore
Celendula
It suits in my skin type and i love it.
09/01/2020
V. Ivonne Ang
Singapore