Hero Ingredients
Calendula
Contains 2000ppm of Real Calendula, a herb calms irritated skin and creates a moisture cover for the skin.
All parts of the Calendula Flower were sourced in its pure, raw form, including the petals, pistil, stamen, and calyx.
Skincare Step
1. Real Calendula Low Ph Foam Cleanser - Gently cleanse your skin with low pH formula.
2. Real Calendula Peel Off Mask - Lift dead skin and excess oil so the rest of your skincare absorbs better.
3. Real Calendula Hyaluronic Toner Pad - Double cleanse without stripping your skin of moisture.
4. Real Calendula Deep Moisture Essence - Hydrate and tighten your pores and get that lit-from-within glow.

"I'm In love with this product."
I stopped wearing make up after using this just the kit is enough to make me feel beautiful, clean and keeps my face moisturized.
Karen H.
FAQ

How often should I use the Peel Off Mask?

Use it one or twice a week at least 4 weeks to see results. Depending on the sebum production and the state of your skin we recommend using 1-2 times per week.

I have a certain skin type. Can I still use this set?

All the products in our Calendula collection has been clinically tested and are safe to use on even the most sensitive skin, thanks to their naturally derived, plant-based ingredients!

Can I use Real Calendula Hyaluronic Toner Pad as a toner?

Definitely! Tone, hydrate and refine your skin with this wonder pad that has two distinct textures that exfoliates and soothe your skin at the same time. A few swipes and we are ready to take on the world!
Customer Reviews
Write a Review
Ask a Question
08/01/2020
D.L
Singapore
DR
07/12/2020
Dara R.
Singapore
The products make my skin glow.
My third week using Real Calendula 3-Step Set. Did see my skin getting smoother and pores seemed smaller too. I like the gentle feel and mild smell when using. Looking forward to see significant improvement. :)
Bought the whole calendula set. Love how light the calendula serum is on my skin! Love the peeling mask too! It makes my skin feels so smooth and soft. I also bought the carrot serum. During first week of use, I had breakouts so I stopped using for awhile. However, I decided to give it a try again! I must say that the carrot serum is rlly good as it helps to clear the bumps on my skin and brightens my skin. I have been using for 3 weeks now and everything is good. I'll purchase the carrot cream soon!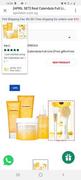 The smell is nice and it's very gentle to the skin. I love it very much. Will definitely order again.
Very satisfying...no more dull and oily skin..
Love the mask. The moisturiser is great and freshening
It does not make my skin dry