NEW Aprilskin Bestsellers Set!
Get all of Aprilskin's signature items in ONE!
Choose your FREE cleanser and achieve that ultimate Aprilskin glow. Better skin days have never been so easy!
This set comes with a:
FREE
Real Calendula Cleanser

or

Real Carrotene Cleanser


Real Calendula Peel Off Pack 
Real Calendula Peeling Gel 
Real Artemisia Rice Essence Toner
Real Carrotene Blemish Clear Serum
Real Artemisia Squalane Hydra Gel Cream
Real Calendula Peeling Gel - 120ml, Real Carrotene Blemish Clear Serum - 37ml, Real Artemisia Squalane Hydra Gel Cream - 50ml, Real Artemesia Rice Essence Toner - 200ml, Real Calendula Peel Off Pack - 100ml, Real Carrotene Foam Cleanser - 120g, Real Calendula Low PH Cleanser - 200g  
Main Ingredient
Calendula
Contains 2000ppm of Real Calendula, a herb calms irritated skin and creates a moisture cover for the skin. All parts of the Calendula Flower were sourced in its pure, raw form, including the petals, pistil, stamen, and calyx.
Carrot Complex & Beta-Carotene
The Carrotene Line is filled with Carrot Complex ingredients including 10ppm of carrot water, 10,000ppm of carrot seed oil and 300pm of carrot proteins extracted from 100% pure carrots. Rich in pro-vitamin Beta-Carotene, it provides extreme soothing, smoothen the skin's texture, and brighten up the complexion.
Artemisia & Vegan Squalane
Grown in rich soils and lush landscapes at the foot of Mt. Taebaek, it is a time-tested, traditional skin soothing folk remedy passed down over generations. Sourced and extracted from Spanish green olives, our squalane is all natural and cruelty-free. With its molecular structure that is close to skin's own, it penetrates deep into the pores and targets skin concenrs at a cellular level, without clogging pores.
Skincare Step
1. Real Carrotene Acne Foam Cleanser / Real Calendula Low PH Foam Cleanser
Deeply cleanse and soothe your skin without stripping off its moisture
2. Real Calendula PHA Hyaluronic Peeling Gel or Real Calendula Peel Off Pack
Peeling Gel: Quick 30-second hypoallergenic peeling gel to gently exfoliate skin while retaining moisture (wash-off type)
Real Calendula Peel Off Pack: 30-minute peel off mask to get deep into the pores to achieve a smooth canvas
3. Real Artemisia Rice Essence Toner
Hydrate, calm, and firm the skin while prepping for the next steps
4. Real Carrotene Blemish Clear Serum
Refine skin texture and prevent from future breakouts
5. Real Artemisia Squalane Hydra Gel Cream
Hydrate, firm, and plump tired skin while sealing all the amazing ingredients in your routine!
"My new go-to set!"
I just saw the Aprilskin ad showing the top 5 bestsellers of 2020 and I immediately tried this set out! All the products work well with my sensitive skin so I'm really happy about that!
Beverly
Clinical Results

9 different types of clinical trial - completed

In a 2-week clinical trial:
100% were satisfied with the product
100% said they would recommend it to their friends
100% felt their skin is moisturized
100% did not feel any irritations
100% noticed a reduction of flaky skin
100% felt their following skincare product absorbed better
95% felt that their skin barrier has strengthened
95% felt their skin developed a natural, healthy glow

Hypoallergenic test - Completed
Skin safety test - Completed

Immediately after use:
Skin cooling test: 97.27F > 89.29F

After 30 minutes:
Irritation reduction: 11.93 > 9.69
Skin tone improvement: -2.30% > 1.16%

After 2 weeks:
Skin elasticity improvement: 22.47% > 40.98%
Skin surface improvement (bump reduction): 7.41% > 6.82%
External moisturization improvement: 54.46 > 59.42
Internal hydration improvement: 49.44 > 50.88
* Clinical trial conducted based on South Korean dermatological standards
Customer Reviews
Write a Review
Ask a Question
01/25/2021
Irish R.

Singapore
I recommend this product
Very Satisfied
Im very happy with this product. This is my 2nd purchased. Thanks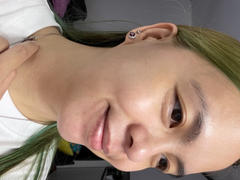 01/22/2021
Nang L.

Singapore
Highly recommended
I love them all . Absolutely amazing really make skin smooth and shine. Thanks April Skin.
01/19/2021
Irish R.

Singapore
100% Effective
I very happy with my purchase. After a few days tried all this product, im very satisfied and happy with my bundle purchased. Now getting another bundle just for my stock up. Thank you.