Customer Reviews
09/28/2020
Kay L.
Singapore
I recommend this product
Prefect magic cover fit cushion
The product is good. But the gift is defective. The lights on the mirror does not work.
09/01/2020
Mira M.
Singapore
I recommend this product
Everything is great just the packaging can be improve cuz mine looked like an old product..
09/01/2020
JEAN L.
Singapore
Smooth absorption
Very good impression and the foundation settled in quite fast leaving a smooth but not too oily feel.
07/30/2020
LYH
Singapore
Supper good product
The cushion's finish is exactly what I'm looking for. Good coverage with glows. Can last for at least 8 hours, I took a nap in the afternoon with the makeup and when I woke up it looks as fresh as before. My mum she's 50 plus tried it and it suits her dry skin too hence she also purchased one set. The eyeshadow also easy to applied and the colour is easy to match with all the outfit, it does past for Long as well. Lastly is the supper good customer service. Thank you Leanne from aprilskin And the customer service team for you supper service! Aldi placed my second order.
07/09/2020
YM
Singapore
Real carrot set & magic full coverage #23
This is my second purchase, last time I bought calendula set it also good but carrot is more suitable for me . The cushion is the one I've been looking for . I only put very little as test it almost coverage and I also love the eyeshadow and lipstick too. But one thing is I dunno how to insert the battery thro they give the battery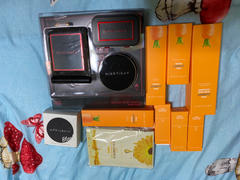 06/20/2020
Alice O.
Singapore
Good deal but need instructions on how to insert the battery to the LED mirror
Received the goods in good condition. However there is not instruction on how to insert the battery to the LED mirror although a battery is given separately. Watch youtube for instructions but the model is different as the one shown on Youtube. Asked hubby who is an engineer for help but he took a long time to figure out.. not a easy task.
It is good. However, I couldn't put the battery inside the mirror
Bought #22 pink beige and it is just the right colour for my skin tone. Easy to use and comfortable. Not able to withstand my sweat thou, but it's all good. Love the cooling feeling when applying ^^