[BUY 3 GET 3] Real Carrot Full Line Set (Free gifts + Free shipping) includes
Real Carrot Blemish Clear Serum
Real Carrot Cream
Real Carrot Acne Foam Cleanser
+
FREE Real Carrot Blemish Clear Serum

 Mini (10g)
FREE Real Carrot Cream Mini (10g)
FREE Real Carrot Acne Foam Cleanser Mini (15g) 
Customer Reviews
Write a Review
Ask a Question
07/03/2020
Razita M.
Singapore
07/03/2020
S N.
Singapore
I recommend this product
Real Carrot Range
I've been using this for about 5 months. I used to have very bad acne and scars. After about a month of using the products, my pimples have subsided significantly and my scars are also lighter. I've been using it ever since and I highly recommend it. My skin is dry/combi and sensitive.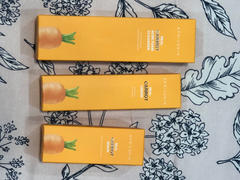 07/03/2020
Elvira A.
Singapore
I recommend this product
Amazing
It's my first time to use this 3 item, may dark spots slowly clear. Thank you aprilskin!
07/03/2020
Cindi T.
Singapore
I recommend this product
very good
I was very satisfied with the item as it helped with clearing my pimples and whitening my face .
07/02/2020
Celine Z.
Singapore
Real Carrot
Really improves the skin. Brightens and whitens appearence
07/01/2020
Shina J.
Singapore
Life changing
I have always been looking forward for this collection and yes i really love it!!!!
07/01/2020
Julie M.
Singapore
Excellent
I love the texture and I will buy and use
07/01/2020
xandrea s.
Singapore
satisfied customer
so far so good.
07/01/2020
Glenn S.
Singapore
06/27/2020
Kelly
Singapore
Worth The Money!
I see instant result. The cleanser alone is very good. It closes pores and skin become a bit brighter and smoother than before. The rest of the products are not good. I dont see any results. So I just buy the cleanser will do.
06/21/2020
xiu w.
Singapore
Carrot line
Felt so refreshed after using the cleanser. Using it together with the serum definitely give a better absorption. Love it. Hope they will release the carrot toner So that it a full set
06/20/2020
Kaewta P.
Singapore
Turns out really well for my skin!
After using the products for only 2 days, i immediately see results! Skin definitely much brighter. Been using it for 5 days now and breakouts as well as bumps are slowly fading away. My mum noticed it as well. I love how the face wash makes my skin feel so clean and fresh. You may need to get used to the smell of the serum but nothing bad. Overall, im enjoying the full set as I got it at a good deal and has been really good for my skin. Will stick to it if all goes well.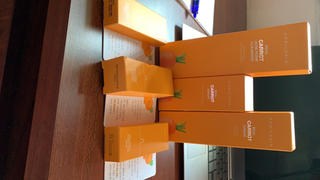 06/19/2020
Yunn L.
Singapore
Not too bad
Not much different to my skin condition after using the product for more than a week. Will continue to see if it improves. May not be suitable for people with sensitive skin..
06/12/2020
Lhie
Singapore