Just the Pore-ssentials for a GLOWING complexion!

4 easy steps to get glowing, smooth, and blemish-free skin!
Start with the clarifying Carrotene Foam Cleanser to clean the skin and remove impurities.
Pore-tox your skin with the Triple Acids Oil-absorbing Clay Mask because cleansers just don't get all the gunk off! This Clay Mask does the work for you to gently and deeply exfoliate your skin of accumulated dead skin cells while minimizing pores with its hydrating formula.
Once your skin feels like a smooth blank canvas, apply the Real Artemisia Rice Essence Toner which has soothing Artemisia to calm and prep skin. It makes your skincare absorb better too!
Finish it off with the Real Carrotene Blemish Clear Serum to nourish your skin with the power of Carrotene, which has proven to reduce and fight blemishes and acne while brightening skin thanks to its carrot complex and niacinamide ingredients.
FREE Real Carrotene Foam Cleanser and Pore Cleansing Brush with every purchase!



Hero Ingredients
Sebum-absorbing Ingredients
Controls excess sebum with its 21.5% oil-absorbing ingredients including kaolin, bentonite, montmorrillonite, and charcoal powder. Mask first absorbs excess sebum like an oil blotter, and dries matte when it's done working its magic. Also contains Calming Complex including licorice extract, carrot protein, carrot water, and carrot seed oil soothes and calms skin.
Artemisia & Rice Essence
Grown in rich soils and lush landscapes at the foot of Mt. Taebaek, it is a time-tested, traditional skin soothing folk remedy passed down over generations. Formulated with 10,000ppm rice bran water. This (not so) secret ingredient brightens and clears skin and also effectively removes impurities while providing skin-nourishing oils.
Carrot Complex & Beta-Carotene
The Carrotene Line is filled with Carrot Complex ingredients including 10ppm of carrot water, 10,000ppm of carrot seed oil and 300pm of carrot proteins extracted from 100% pure carrots. Rich in pro-vitamin Beta-Carotene, it provides extreme soothing, smoothen the skin's texture, and brighten up the complexion.
Skincare Steps
1. Real Carrotene Foam Cleanser
- Irritant-free, Gentle Acne Care

2. Triple Acids Oil-Absorbing Clay Mask
- Pore-detoxifying and acne-clearing clay mask.

3. Artemisia Rice Essence Toner
- Soothing, plumping, hydrating prep-step.

4. Carrotene Blemish Clear Serum
- Brightening and skin smoothening serum.


Tips: Use the Triple Acids Oil-Absorbing Clay Mask twice a week, and the other products in this set can be used up to twice a day, or however many times you want!
"Soothing and pore tightening set"
Love this set especially the clay mask. It wasn't drying to my sensitive skin. Worked effectively to remove blackheads and grime. The Artemisia and Carrotene products also go really well. I really feel like my skin is pampered every time I use this!
Sarah O.
FAQ

How often can I use this set?

The Clay Mask should only be used up to 2 times per week, less than 10 minutes of each application. The toner and serum can be used as many times in the day as you want.

How do I use this?

You can start with the Carrotene Cleanser for a clean skin, then the Clay Mask. Once that's dried, wash off with water and pat skin dry. Continue with Artemisia Toner and finish it off with the Carrotene Serum.

How long will it take to see a difference?

The effects of the Clay Mask can be seen immediately. The soothing and calming effects of the toner can also be felt right after application. For the Carrotene Serum, we recommend applying for up to two weeks before seeing significant results.

I have a certain skin type. Can I still use this set?

All of our products are very gentle even to sensitive skin types, so you shouldn't worry!
Customer Reviews
100
reviewers would recommend this product
Write a Review
Ask a Question
06/03/2022
I recommend this product
Value for money skin care product
I actually used the brightening serum and Skin feels softer and smoother. Not sure about the brightening effect though. Therefore I decided to buy this bundle offer for my 18 year-old daughter who has open pores issue She quite like it. Will probably have to wait a few more weeks to see if there is improvement.
Lay C.

Singapore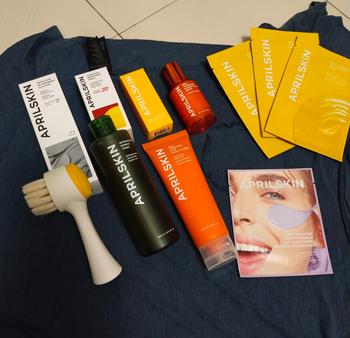 02/17/2022
I recommend this product
Products really surprised me !!
It was really good once I tried out and I can feel my skin have a very youthful touch and look. Its control my T-zone oil as well. Love love love April Skin :)
LLY

Singapore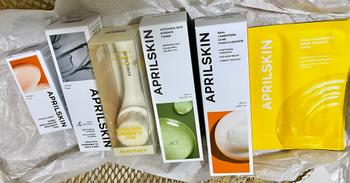 02/16/2022
I recommend this product
Beyond Pampering
Bought the set just to try and found they are all so pampering, relaxing & give my skin a beyond comfort. Will see the effects if it's really working as the start for my skin partners in life
Michael

Singapore
07/10/2022
I recommend this product
Love it
Really helps with my skin condition
05/25/2022
I recommend this product
Review of the products purchased
I am very happy with the product. It helps to keep my oil in face in control and i feel very tight on my skin
Latha S.

Singapore
02/08/2022
I recommend this product
Never A Disappointment
I'm always satisfied with AS's products. Only been 4 days using this set, but there is a slight improvements to my pores. They have shrunken a little. Face definitely cleaner. The clay mask esp, really does absorbs impurities. Skin feels and looks better after washing it off.
Hairul S.

Singapore