Hero Ingredients
Calendula
Contains 2000ppm of Real Calendula, a herb calms irritated skin and creates a moisture cover for the skin.
All parts of the Calendula Flower were sourced in its pure, raw form, including the petals, pistil, stamen, and calyx.
Skincare Step
1. Real Calendula Low Ph Foam Cleanser - Gently cleanse your skin with low pH formula.
2. Real Calendula Peel Off Mask - Lift dead skin and excess oil so the rest of your skincare absorbs better.
3. Real Calendula Hyaluronic Toner Pad - Double cleanse without stripping your skin of moisture.
4. Real Calendula Deep Moisture Essence - Hydrate and tighten your pores and get that lit-from-within glow.

"I'm In love with this product."
I stopped wearing make up after using this just the kit is enough to make me feel beautiful, clean and keeps my face moisturized.
Karen H.
FAQ

How often should I use the Peel Off Mask?

Use it one or twice a week at least 4 weeks to see results. Depending on the sebum production and the state of your skin we recommend using 1-2 times per week.

I have a certain skin type. Can I still use this set?

All the products in our Calendula collection has been clinically tested and are safe to use on even the most sensitive skin, thanks to their naturally derived, plant-based ingredients!

Can I use Real Calendula Hyaluronic Toner Pad as a toner?

Definitely! Tone, hydrate and refine your skin with this wonder pad that has two distinct textures that exfoliates and soothe your skin at the same time. A few swipes and we are ready to take on the world!
Customer Reviews
Write a Review
Ask a Question
11/29/2020
Nur A.
Singapore
I recommend this product
I've been using this for a week but i can already see improvement and i really love it.
11/28/2020
Winnie L.
Singapore
11/25/2020
CHEE P.
Singapore
11/23/2020
Carol O.
Singapore
I recommend this product
Calendula full line
My friend got me the Calendula peel off pack, I like it so much that I planned to buy another tube but end up with the whole line. After a few months of usage, I think this works well for me. I am using this at night because it's richness and need time for the skin to absorb. Initially I worried this will be too rich as I have combination skin of dry on the surface but oily beneath. So when using other water-based products, I have the tendency of developing oil bubble when the product too rich. But with this Calendula Line, I do not have any oil bubble and my skin seems not as dry as before. I think this Calendula Line and working from home (so lesser aircon environment so the air not so dry) helps. I glad I bought this and will continue.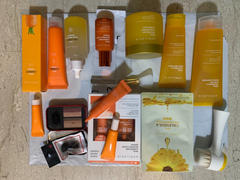 11/22/2020
Julie R.
Singapore
11/17/2020
Vicky C.
Singapore
Smoother skin
This is my second tube of peel off mask. I like how my skin feels after peeling. The toning pads come with a pair of pincers for hygiene and the pads are well soaked. I wish there's a calendula moisturizer instead of the orange carrotene one which is more for acne skin than mine but it was in the pack.
11/17/2020
Ginn O.
Singapore
Real Calendula Full Line (Free gifts+Free shipping)
The most attractive part of this product is the fragrance. Other than the fragrance , I love the effectiveness of the product. It has made my skin brighter. I will definitely buy more when my products finished.
11/16/2020
yenn l.
Singapore
Real Calendula
I am happy for the purchase. It makes my skin feel soft & smooth after use.
11/16/2020
Anna .
Singapore
11/15/2020
Buhari F.
Singapore
Highly recommended to all!
This line have made my skin extra smooth! I used with with the carrot serum. You can see the result as early as one week if you religiously apply them twice/thrice a day.
11/15/2020
Chua C.
Singapore
Real Calendula Full Line
Very good. Like the deep moisture essence very much. Smell nice.
11/14/2020
Eixora S.
Singapore
Real calendula full line
Awesome, will buy again n the promo price is good
11/14/2020
Irene L.
Singapore
Real Calendula Full Line
improve my acne-prone skin and make me feel more confident
11/14/2020
Patricia F.
Singapore
Totally in love with Real Calendula products
I started trying the Real Calendula peel off mask. Was in love with that. My skin feel clean and less oily after every use. And I bought the second bottle as soon as the first one was finished. I thought to myself, since I am so impressed by the results, why not try the set. I am so glad I did. My skin has improved tremendously and looks so bouncy and clear now. I am sure I will continue yo use the Real Calendula range together with the real carrot serum and cream to clear my zip when they appeared. Thank you.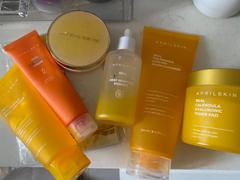 11/13/2020
Angela T.
Singapore
Real Calendula Full Line (Free gifts+Free shipping)
Received all items nicely pack and fast. There are a few items that are new to me and I have yet to try them. With the discounts, it's worth the money.